Top Facts About Living In Vancouver
Vancouver, a vibrant city on the west coast of Canada, offers a unique and diverse living experience. From its stunning natural beauty to its thriving economy, there are many reasons why people choose to call Vancouver home. As a consequence of this demand, many prospective immigrants are curious to know what it's like living in Vancouver.
Therefore, before leaping to move to Vancouver, Canada, familiarize yourself with the top things to know about living in British Columbia's largest city!
The Quality of Life in Vancouver is Some of the World's Best
One of the most exciting aspects of Vancouver is the world-class quality of life. Even in Canada, Vancouver is well-known for its amazing lifestyle, high salaries, quality housing, widespread transportation networks, and vibrant diversity.
High Salaries
Workers in Vancouver earn comparatively higher salaries than workers in Canadian cities of similar size like Montreal and Edmonton. This is shown in the table below with figures from numbeo.com.
| Canadian City | Average Monthly Net Salary (CAD) |
| --- | --- |
| Vancouver | 4,524.36 |
| Edmonton | 4,013.68 |
| Montreal | 3,839.68 |
Housing
Vancouver's picturesque setting, surrounded by mountains and the Pacific Ocean, makes it a highly sought-after location to live. This sets housing in Vancouver apart from other major cities since there is no other city in Canada that offers views of the Canadian Rockies and the Pacific Ocean in the comfort of your own home. Accommodation in Vancouver is available in all the major forms of housing, including townhouses, condos, duplexes, etc.
Renting an apartment is the most sought-after housing option for newcomers to Vancouver. We recommend looking for an apartment on the city's outskirts, which often has lower rent prices for individuals and families than an apartment in the city center, as shown in the table below. All information is obtained from numbeo.com.
| Apartment Location in Vancouver | Cost Per Month (CAD) |
| --- | --- |
| 1 Bedroom Apartment in the City Center | 2,818.12 |
| 1 Bedroom Apartment Outside the City Center | 2,265.59 |
| 3 Bedroom Apartment in the City Center | 5,044.20 |
| 3 Bedroom Apartment Outside the City Center | 3,910.92 |
Transportation
Transportation claims a very important place in Vancouver's world-class socio-economic infrastructure and facilities. Included in Vancouver's main public transportation routes are the following commercial passenger transport systems:
Translink Rapid Transit Buses (RTB) (from R1 King George Blvd to R5 Hastings St),
SkyTrain (connects Vancouver to Coquitlam and Surrey),
West Coast Express train (Commuter train running from Vancouver to Mission),
SeaBus (hovercraft boats connecting Vancouver to its northern areas), and
The benefits of using Vancouver's transportation system includes:
Convenience
Vancouvers public transportation system is generally convenient, enabling passengers to travel across the city in a simple, easy to navigate manner.
Accessibility
The public transportation system is spread throughout the city and therefore is accessible to all of the city's residents.
Affordability
To ensure the public transportation system remains available to those who need it the most, the cost to use the system is kept relatively low.
Speed
As part of the value offered by its services, Vancouver's public transportation system speedily transports passengers to their respective destinations.
To ensure you can afford the above-mentioned public transportation in Vancouver, set aside 156.00 CAD, the regular price for a monthly pass according to numbeo.com.
Please Note
If you're licensed to drive in Vancouver, it's vital to consistently be aware of the gasoline per liter price, which currently stands at 1.64 as per information from numbeo.com.
Safety in Vancouver
For many immigrants, safety is at the top of their considerations when choosing to live in Canada. Vancouver's crime index levels are a moderate 43.00, according to numbeo.com. Furthermore, recent data from Statistics Canada indicates that Vancouver's violent crime rate of 972 per 100,000 people is 17% lower than British Columbia's (1,164 incidents) and 15 % lower than Canada's (1,143 incidents). This makes Vancouver safer than the rest of the province and country it's located in, securing the peace of mind necessary to enjoy a high quality of life.
Entertainment
Vancouver is one of the best cities in Canada to explore. Among the many public attractions that you can visit are renowned landmarks such as:
All of these public attractions provide a very popular means by which individuals and families can relax, be entertained, socialize, and make long-lasting memories among Vancouver's diverse communities.
Half of Vancouver's Population Are Non-Native English Speakers
Vancouver is known for its cultural diversity and welcoming atmosphere. According to Statistics Canada, approximately half of the city's population are non-native English speakers.
According to the World Population Review, 42.5 percent of the city's population comprises foreign-born residents, making Vancouver the fourth most diverse city in the world. This reflects the city's multicultural environment, which creates a vibrant and inclusive community where people from different backgrounds can thrive.
The multicultural nature of Vancouver is also reflected in its education system. According to UBC's Annual Enrolment Report, this is best exemplified by the University of British Columbia (UBC), which has 19,909 international students. This diversity enriches the learning experience and prepares students for the globalized world.
Vancouver Has a Tech-Savvy Economy
Vancouver's economy is thriving, with a particular focus on the technology sector. The city has become a hub for tech companies, attracting local and international talent. With the presence of major tech giants and numerous startups, Vancouver offers abundant job opportunities for those with expertise in technology. Major tech companies with headquarters in Vancouver include:
The city's tech-savvy economy has also led to the growth of other industries, such as film and video game production. Vancouver has earned the nickname "Hollywood North" due to its thriving film industry, which contributes significantly to its economy.
If you're considering a career in technology or sustainable industries, Vancouver offers a promising and exciting environment to thrive professionally.
How You Can Move to Vancouver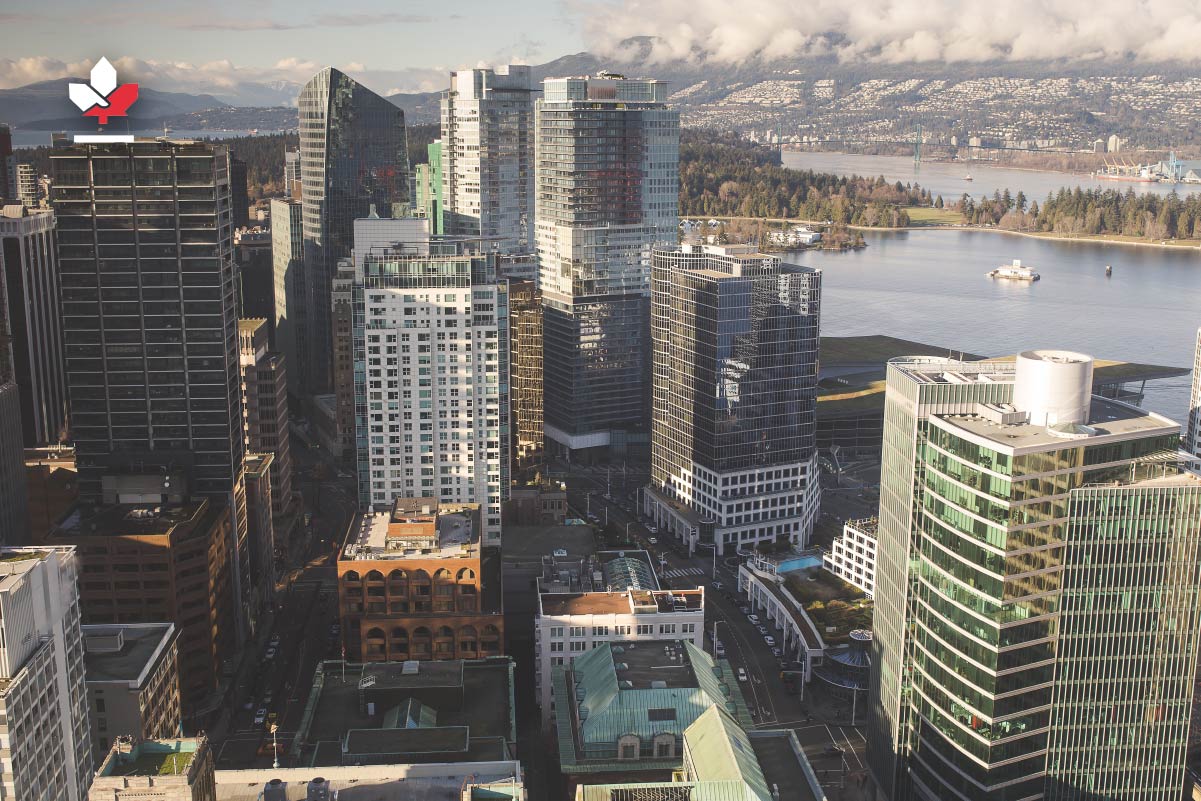 If you're enticed by the prospect of living in Vancouver, there are several pathways you can explore to make the move. Here are three common options for relocating to Vancouver:
Express Entry System
The Express Entry system is a program managed by Immigration, Refugees and Citizenship Canada (IRCC). It enables skilled workers to apply to immigrate to Canada and receive permanent residency (PR). The Express Entry System has three programs. They are as follows:
Federal Skilled Worker Program (FSWP),
Find out more about Canada's Express Entry system.
British Columbia Provincial Nominee Program
The British Columbia Provincial Nominee Program (BC PNP) is an immigration visa program that allows you to apply for permanent residency in British Columbia. If you successfully apply, the British Columbia government will issue you a provincial nomination (PN) for permanent residency.
Receiving a PN will provide you with 600 Comprehensive Ranking System (CRS) points, which almost guarantee you an Invitation To Apply for PR via the Express Entry system
Please Note
The BC PNP has several streams, each catering to different categories of workers, such as skilled workers, international graduates, and entrepreneurs. Therefore, it's important to research each BC PNP stream so you can make an informed choice about which program is most suitable for you.
Learn more about the British Columbia Provincial Nominee Program.
Canada Work Permits
If you are not yet eligible to apply for permanent residency in Vancouver, you can apply for a Canada work permit to live and work temporarily.
If successful in your application, you may establish yourself on a path to Canadian PR by gaining the necessary work experience and connections in Canada needed to apply for PR immigration programs like the Canadian Experience Class (CEC).
Learn more about how to get a Canadian work permit.
The Pros and Cons of Living in Vancouver
| Pros | Cons |
| --- | --- |
| Natural Beauty: Vancouver's stunning natural surroundings, including mountains, forests, and the ocean, offer endless opportunities for outdoor activities and breathtaking views. | Cost of Living: Vancouver is one of Canada's most expensive cities, with high housing prices and the overall cost of living. |
| Multicultural Environment: Vancouver's diverse population creates a rich and inclusive community where people from different backgrounds can thrive. | Underbelly of Poverty: Like many major cities, Vancouver's high cost of living has precipitated a growing poverty-fueled homeless problem most evident in downtown Vancouver. |
| Thriving Economy: Vancouver's tech-savvy economy provides numerous job opportunities, particularly in the technology, biotechnology, and sustainable industries. | Rainy Climate: Vancouver has a reputation for its rainy climate, with long periods of gray skies and precipitation. |
FAQs
What Are Some Things to Do in Vancouver?
Vancouver offers a wide range of activities for residents and visitors alike. Here are some popular things to do in Vancouver:
Explore Stanley Park
Stanley Park is a must-visit destination in Vancouver, offering beautiful trails, beaches, and stunning views of the city.
Visit Granville Island
Granville Island is a vibrant neighborhood known for its public market, shops, restaurants, and art galleries.
Take a Walk in Gastown
Gastown is Vancouver's oldest neighborhood, with cobblestone streets, Victorian architecture, and a variety of shops and eateries for you to visit.
What is the Population of Vancouver?
As of the latest statistics from the World Population Review, Vancouver's city proper population is 672,857, and the Greater Vancouver Area (GVA) has a population of 2.4 million people.
Is Vancouver a Better Place to Live Than Toronto?
Deciding to immigrate to Canada and live in Vancouver to Toronto can be a challenging decision for many newcomers. If you find yourself in the same position, you can help make your decision easier by taking a look at Toronto vs Vancouver - where would you live?