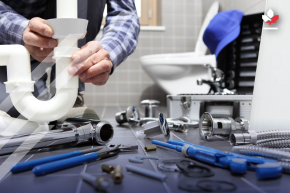 Immigrate to Canada as a Plumber
Not every boy or girl growing up wants to become a plumber. It is a labor-intensive, unglamorous occupation with a tough reputation. The truth is, if every little boy or girl knew what it cost to live comfortably, the number of hours they would have to dedicate to earning a living, and the range in the job description of a plumber, they might think twice before going to university.
Trade jobs have long been an in-demand profession worldwide, and it is no different in Canada. When a skill is in demand, those with the skill get to set the price for their services, which is why experienced plumbers in Canada make up to CAD 78,138 a year, according to Glassdoor.
If you are interested in immigrating to Canada as a qualified plumber, know that it would not be difficult for you. Primarily you would need to choose the right immigration program. Securing permanent residency could also depend on where you seek a job, but we will get to that.
Permanent Residency
Being a permanent resident grants you the right to live, work and study in Canada indefinitely. You are regarded as a member of the Canadian population and are legally entitled to and provided all Canadian citizens' rights, responsibilities, and benefits.
There are exemptions to what you're entitled to as a permanent resident of Canada. This includes your inability to vote, run for political office, or have a job with a security clearance that is very high.
Immigration, Refugees and Citizenship Canada (IRCC) enables the entry of permanent residents into Canada in a manner that maximizes their economic, social, and cultural contribution to Canada. This ensures Canadians' health, safety, and security are protected and maintained.
There are around 100 immigration pathways for foreigners to apply for Canadian permanent residence and eventual citizenship in Canada. The following briefly examines some of the most popular and relevant streams for foreign plumbers.
Express Entry
The Express Entry system offers applicants permanent residency in Canada in as fast as six months. This stream was created for foreigners in managerial roles, professionals, and skilled trades workers.
Federal Skilled Trades Program(FSTP)
For skilled workers working in trade occupations and living outside Canada, this is the most suitable immigration pathway for you. The FSTP helps skilled tradespeople and their families gain permanent residence in Canada in as little as six months (if possible) via Express Entry.
Eligibility requirements for FSTP are as follows:
Skilled work experience - at least two years of work experience within the last five years in a skilled trade before you apply
A valid full-time job offer (minimum contract of one year) or a certificate of qualification as a plumber from a Canadian provincial, territorial, or federal authority.
Language ability - certain aspects of your job will depend on your ability to communicate effectively with customers, for this reason, you will need to pass a Canadian Language Benchmark (CLB) test and earn a minimum CLB score of 4 in all four sections; reading, writing, listening, and speaking.
Qualifications - there is no educational requirement, however, it will boost your score if you have your qualification/certification credentials evaluated.
Eligible - you must be eligible to immigrate to Canada, this means you cannot have a criminal record, you must be in good health and you must have legal status in the country you are living in now.
These and other additional factors all have a point value used to calculate your Comprehensive Ranking System (CRS) score. You will then be entered into the Express Entry pool from which the applicants with the best scores are selected in bi-monthly draws and sent Invitations to Apply (ITA's) for permanent residency (PR) in Canada. If you are sent an ITA and can back up everything you have claimed in your application, you will be awarded PR status.
How to Apply
To apply for the FSTP, just follow these steps:
Step 1: Create Your Express Entry Profile
Set up a profile on the Canadian government's website. Apply through the FSTP stream to be evaluated properly. After entering all the required details into your Express Entry profile, submit all of them to get your CRS score.
Step 2: Enter Into the Express Entry Pool
You will receive your CRS score after you have submitted all your Express Entry profile details. Your CRS score will be entered immediately into the Express Entry pool. Keep a close eye on the results of the Express Entry draw. The CRS score requirements are dynamic and subject to change every draw. If your score was not enough to make you receive an ITA in the last draw, this does not mean the result will be repeated in the next draw.
Step 3: Receive Your ITA
Scores are chosen in an Express Entry draw and dictate if you will receive an ITA. If you do, sixty days will be allowed for you to gather all necessary documentation and submit your permanent residence application.
Step 4: Gather Your Documentation
The following is the documentation needed to gain permanent residency using the FSTP:
Travel documents (passport)
English language proficiency test result scores
Provide proof of Canadian education or ECA
Proof of sufficient funds to support your family and yourself
A job offer written and provided by a Canadian employer
A Provincial Nomination
Police clearance certificates
Medical clearance exam results
Birth certificate (if immigrating with children
Marriage certificate (if married)
Common-law union form (If in a Common-law partnership)
Divorce certificate (if divorced)
Adoption certificate (if you have an adopted child)
Death certificate (if widowed)
Within sixty days, you must upload all your documentation to your Express Entry profile. Any partners or dependents must do the same if they're moving with you.
Step 5: Pay Your Fees and Submit Your Application
Pay your IRCC processing fees and submit your application after submitting all your documents. The processing fees are as follows:
| Fee | CA$ |
| --- | --- |
| Application Processing Fee | 850 |
| Right of Permanent Residence Fee (RPRF) | 515 |
| Include a dependent child (per child) | 230 |
The IRCC will update you if they received your application submission and any other updates via your Express Entry profile so we recommend checking it regularly.
Canadian Experience Class
The Canadian Experience Class is a Federal Economic Immigration program specifically for skilled foreign workers who have lived and worked in Canada for a minimum of one year using a temporary resident permit like the Working Holiday Visa, a work or a study permit.
Applicants should check whether or not their eligibility before applying for this program. After checking eligibility, they can establish an Express Entry profile on the Government of Canada's website. A state-of-the-art evaluation dashboard at MDC helps our clients ensure their applications are complete, and supporting documentation is correct and valid.
Your nationality, age, marital status, qualifications, language ability, and work experience will be evaluated by IRCC through the Comprehensive Ranking System (CRS) calculator to generate a CRS score. These scores are entered into the Express Entry pool.
Provincial Nominee Program
Applying for a provincial nomination involves either one of two ways. Firstly, create and submit an expression of interest (EOI)to the province that you wish to settle and work through your Express Entry profile.
Should your work skills align with provincial demands, you will receive a provincial nomination, which contributes 600 points of the overall 1,200 available CRS points and can push you to the top of the candidate pool.
Secondly, create a profile for the province you want to settle and work in on the provincial government site and directly submit an EOI. Should the province need your work skills, you will be granted permission to apply directly to the province and for permanent residency in the government of Canada.
There are provinces with immigration streams using PNPs, allowing plumbers who wish to settle and work in the province to apply. They are:
How to Apply
The Process of applying for a provincial nominee program is generally specific to the province you're applying to. However, most of these PNPs have primarily two application routes, which include:
Direct application to the province or territory
The Express Entry Associated process
PNP Direct Application Process
Applying for a provincial nomination directly to your chosen province means you may need to submit a mail or courier paper application. This process is long and can take 15 to 19 months to determine your application's success.
Express Entry Application Process
The two pathways of The Express Entry-linked are
Expression of Interest: Submission of an Expression of Interest (EOI) to the province you want to immigrate to for the chance of being selected from the Express Entry draw pool and obtain a provincial nomination
Apply Directly to a PNP Express Entry Stream: Provinces in Canada have an Express Entry stream along with a list of in-demand occupations. This path allows faster application processing times of at least six months and a higher chance of obtaining an ITA
Atlantic Immigration Pilot
Atlantic Canada is one of the most beautiful places in the world. Prince Edward Island, Newfoundland & Labrador, Nova Scotia, and New Brunswick all share the wild coast of the Atlantic Ocean. Dense evergreen forests, green farmland, picturesque towns, and rocky coastlines charm even the most begrudging nature-averse non-outdoorsmen.
The Atlantic Immigration Pilot was designed by the four Atlantic provinces to attract foreign immigrants with the requisite skills and knowledge needed to fill the gaps in their labor markets and boost their provincial economies.
If you are interested in settling and working in Atlantic Canada, first secure a job offer in one of the participating provinces. Then, you will be eligible to apply. Apply for a Canadian work permit and the Atlantic High Skilled Program simultaneously if you want to obtain permanent residency.
How to Apply
You require an endorsement from one of the Atlantic provinces before applying for the AIP. follow each province's endorsement and application requirements in order to be eligible.
Step 1: Ensure Your Eligibility
Ensuring you, your employer, and your job offer fulfill the Atlantic Immigration Program requirements before applying.
Step 2: Collect Your Documentation
Documentation Requirements
The core documents required for the Canada AIPP are:
Results of one of the four government-approved i.e IELTS Canadian language tests
Your Education Credential Assessment (ECA) report
Documented proof of work experience unless you are a graduate of a Designated Learning Institution (DLI) in Atlantic Canada.
Proof of sufficient finances to support yourself and your family
Besides the documents required, you also need a Settlement Plan. A settlement plan covers all steps sponsored immigrants need to do to settle in Canada successfully.
Step 3: Fill Out Your Forms
Both you (the applicant) and your employer must fill in and submit several forms to the Canadian government to process your application for the AIP.
Step 4: Pay Your Fees Online
Many fees need to be taken into account during your application. The table below gives a breakdown of the different fees.
Step 5: Submit Your Application
Upon completing all of your forms, submit your application, preferably via mail, to the address specified in the AIP guide.
Rural and Northern Immigration Pilot
The RNIP assists businesses based in participating rural communities to fill in vacant jobs that the local talent pool was incapable of fulfilling. Additionally, the RNIP offers paths to permanent residence for skilled foreign workers who plan to settle in one of the participating rural communities.
Foreign workers with genuine employment opportunities who intend to settle in the community and meet the eligibility criteria can apply for this program. Foreign workers must find an eligible job with a local community employer in one of the participating communities to apply. They must also submit their application for recommendation to the community. They can apply for permanent residence if they are fortunate enough to be recommended.
The program is available in 11 participating rural communities in Ontario, Western Canada, and the three Canadian territories.
The RNIP is an essential regional immigration program that assists and supports the sustainable growth of rural Canada.
How to Apply
Steps to apply for the RNIP include:
Step 1: Research, The Communities
Research the participating communities and find the most suitable to your needs and preferences before applying to this program.
Step 2: Check Eligibility Requirements
Ensure you meet the eligibility criteria for the RNIP, which includes occupational aspects such as work experience, language skills, and education. You also need to have genuine intentions to live in the rural community.
Step 3: Find a Job
To apply for the RNIP. You need a permanent, full-time job offer from an employer in your chosen rural community to apply for the RNIP.
Step 4: Obtain a Community Recommendation
With a job offer, get in touch with the rural community's designated economic development organization so you can apply for the community recommendation.
Step 5: Language Testing
Complete an IELTS test in English or French to provide proof of your language proficiency. The RNIP requires at least a CLB score of 5. This varies according to the community and job offer.
Step 6: Educational Credential Assessment
If you completed your education outside of Canada, you need an ECA as proof that your foreign credentials are equivalent to Canadian education standards.
Step 7: Create an Online Profile
Make an online profile on the IRCC website. Provide valid and accurate information about your work experience, language skills, education, and other factors that are relevant.
Step 8: Biometrics
Submit your application and provide biometrics testing results, which includes fingerprints and photos
Step 9: Medical Examination
Undergo a medical exam To provide proof you don't threaten the public health or safety standards in Canada. Make an appointment with a Canadian government-approved physician.
Step 11: Prepare for Your Move to Canada
Make arrangements to move to your chosen rural community in Canada if your application is successful. We recommend preparing to settle in your new home by researching housing options, schools, and local services.
Start-up Visa
The Canada Start-Up Visa Canada Program was created for immigrant entrepreneurs who have the skills and experience required to build businesses in Canada. They must be able to bring innovation and job creation and possibly be able to compete in the global market.
To be eligible for the Start-up Visa Program, you must meet the following requirements which include:
Having a Business That Qualifies for the Program
Possession of a Letter of Support From One of Canada's Designated Organizations
Provide proof That You Meet the English or French Language Requirements for Canada
Provide proof That You Have Sufficient Settlement Funds for yourself and your family
How to Apply
Step 1: Apply Online
All Start-up Visa applications became mandatory to be performed online. Request a different application format if you cannot do so online. Begin by creating a Permanent residence application online portal account. When signed in, follow these instructions before completing all relevant forms.
Step 2: Add a Photo to Your Application
Submit a photo of yourself and your dependents on your application. This application provides instructions regarding how to scan and upload your photos.
Step 3: Pay Your Application Fees
Processing fees for your dependents and yourself
A Right of Permanent Residence Fee (RPRF)
Biometrics testing fees: Fingerprints and Photos
Third-party fees: medical examinations, police certification, and language testing
Step 4: Submit Your Application
All partners involved in the business must apply. If someone is no longer applying for permanent residency, let the IRCC know through its web form.
Work Permits
Should you not be able to obtain permanent residency in Canada due to ineligibility to apply or application failure, you can use work permits to obtain temporary legal status that enables you to work and therefore live in the country. A Canadian work permit shows that the holder has been authorized to work in Canada and can engage in work activities specified on the permit. There are primarily two kinds of work permits: Open and employer-specific work permits.
Open Work Permit
Canada's Immigration Office issues open work permits to immigrants who want to work for any Canadian employer for a given amount of time. There are two subcategories: Unrestricted and Restricted Permits and Open Work Permits (OPW). The main distinction between the two is that Unrestricted Permits allow a foreigner to work in any location and occupation in Canada, while Restricted OWPs do not.
Employer-Specific Work Permit
The employer-specific Canadian work permit is granted to foreign nationals who receive an offer of employment in Canada. This permit is linked to the employer and the offered job. Foreign nationals can elect to change their employers and can do so by applying for a new work permit.
How to Apply
Applying for a Canadian work permit is one of the most forthright ways of applying to move to Canada and involves primarily three steps.
Step 1: Choose an Immigration Visa That Works for You
Step 2: Check if you are eligible to move to Canada
Step 3: Submit your application
In-demand Occupations
Plumbing is undoubtedly one of Canada's most in-demand occupations. Plumbers provide an essential service tied to one of the most fundamental human needs: efficient, safe sanitation and access to clean water.
Yet Canada's low birth rates and young people's aversion to working-class trade jobs (regardless of their skill level) have resulted in a gap in the labor maker for competent plumbers.
This is where you, as an international skilled worker, can come in and be the solution to this shortage by immigrating to Canada. Look at some provincial in-demand occupations lists to see where your services are most needed.
The Benefits of Being a Plumber in Canada
Apprenticeship
If you are not already a certified plumber, we urge you to consider doing your apprenticeship in Canada. Plumbing apprenticeships usually take one year to complete.
Training
You will do around 1500 hours of practical work with 8-week blocks of technical training per year for four years before writing your final examination to become certified.
Remuneration
You will get paid during this time, starting at around 50% of what a qualified plumber earns, increasing month by month until you reach the level of a certified plumber.
Concurrent Certification
Programs in Canada often allow for a double certification, so you can work toward becoming a gas technician at the same time as you do your plumbing apprenticeship.
Permenent Residency Success Rates
The permanent residency will be very easily attainable as most provinces not only urgently need qualified plumbers but also want their skilled tradesmen to stick around. After all, why would they want to train you only to have you take your expertise elsewhere, boosting some other country or province's economy?
Take the Plunge and Become a Plumber in Canada Today!
With all these options to choose from, it can be hard to be sure which is best suited to your needs, and that is when you know what you're doing! But it doesn't have to be. By using our accredited Regulated Canadian Immigration Consultants (RCICs) you will not only improve your chances of success in the Canadian visa application process, but you will get expert advice on which program is best for your specific needs.
Our RCICs are highly qualified and are granted permission by the Canadian government to assist you with your eligibility evaluation, review all your documents and application forms, and submit them for you.
FAQs
How Long Does it Take to Immigrate to Canada as a Plumber?
The time it takes to immigrate to Canada as a plumber will be highly dependent on the immigration visa programs you applied to and the urgency of need of the provincial or federal government that requires your work skills in Canada or wants to fulfill a target.
However, generally speaking, the Express Entry programs or Express Entry-linked PNPs have the fastest application processing times.
What is the Most Affordable Place in Canada for a Plumber?
Affordability for plumbers in Canada will depend on your financial means (income) and needs (expenses). However, Alberta, which has some of the most prominent plumbers among Canadian provinces, is generally regarded as having some of the most affordable living costs for practitioners of this trade.
Which is the Least Profitable Place to be a Plumber in Canada?
Yukon province and the Northwest Territories, two of the most remote and least populated regions in Canada, are regarded as generally having the least number of profitable opportunities for plumbers.