The Best Destinations for Your Working Holiday in Canada
International Experience Canada (IEC) affords youth from 35 countries around the world an opportunity of a lifetime - to travel around the Great White North for up to 24 months while being able to work to fund their journey. If you have just decided to apply to the IEC Program - congratulations! The best months of your life lie ahead. Because Canada has such an immense wealth of beauty, you may not want to leave every place you visit. But to make sure you get the full experience, it would be wise to research the best regions for your great expedition. This article looks at the best destinations for your working holiday in Canada.
The Best Working Holiday Destinations in Canada
As the second-largest country in the world, Canada is quite a treat for wanderers. If this land of maple leaves has been on your bucket list for a long time, you probably have an idea of the places you want to spend time in. Below are some of the North's most popular destinations, as well as some lesser known ones, that will take your working holiday in Canada to another level.
Toronto, Ontario
When chatting about Canadian cities, the city of Toronto is most likely the first to come up. The city is perhaps best known for its CN Tower. Seen as a symbol of the Great White North, it stands tall in the heart of Toronto. A complete melting pot, the city is famous for the most amazing festivals, vibrant nightlife, beaches, waterfront and parks. You'll find the best in urban and outdoor living throughout this region.

Toronto can, however, be pretty expensive. Make sure you plan well when it comes to your budget. Also, do your best to find jobs that pay a decent wage so that you are not restricted while trying to get the authentic Toronto experience.
Vancouver, British Columbia
British Columbia's bustling west coast seaport, Vancouver, is a popular choice for working holidayers who hit the city in their droves each year. While it is the perfect destination for city slickers, it's also a delight for those who thrive while engulfed by nature, thanks to its mountains and the pacific ocean.
You'll find various tourism, hospitality and admin jobs in this region.
Ottawa, Ontario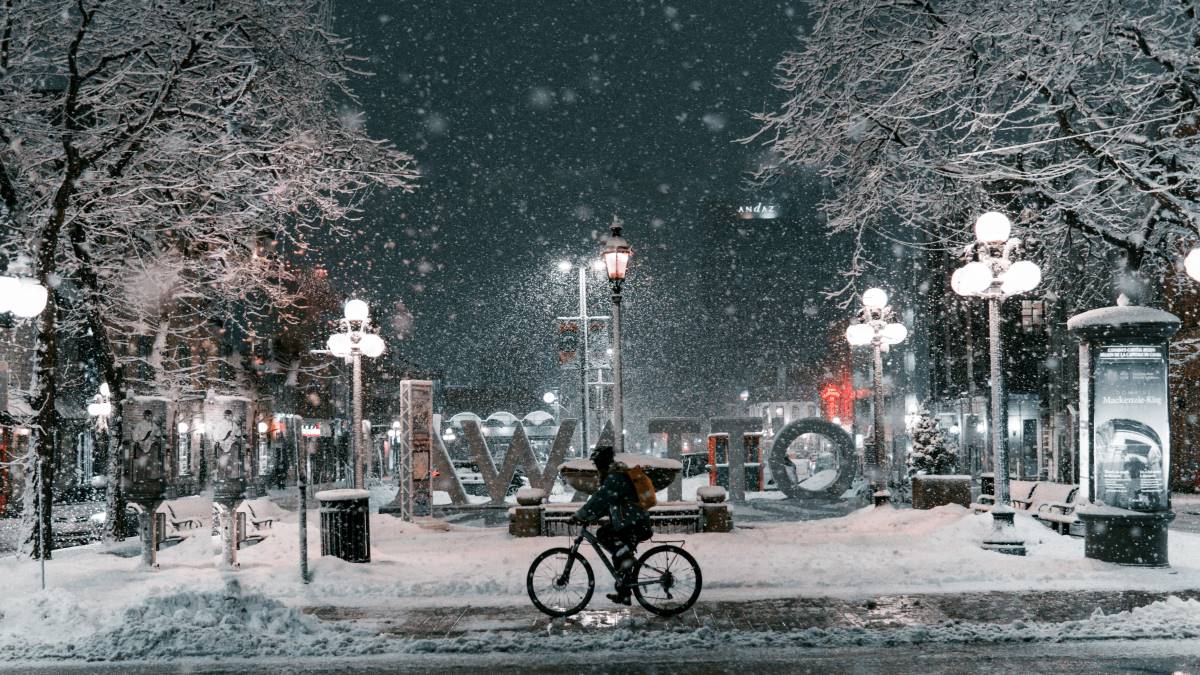 With its very formal title of Canada's capital city, Ottawa may also have garnered a reputation for being bland and short of fun. But the good news is that this underrated destination can be full of surprises. There has been somewhat of a revival, that has added some vibrance and diversity to the once bland bureaucratic setting. This is largely due to the migration of a much younger crowd, who came from suburbia and have turned areas within the city into exciting urban hubs.
There are many opportunities for exploration in Ottawa's pleasant neighbourhoods and lush green spaces. Rideau Canal and Gatineau Park are pretty popular attractions. If you're into historical and political artifacts, you will have a ball wandering around the city's museums.
You will have access to great work opportunities here, with an abundance of government and NGO vacancies and excellent part-time prospects with major tech players like Shopify. The city is quite affordable to live in and definitely should not be dismissed as a great working holiday destination.
Whistler, British Columbia
The small chalet-style pedestrian village of Whistler can be found just north of Vancouver, at the base of Whistler and Blackcomb mountains. If you are searching for the ultimate winter wonderland setting, block out your itinerary from October to April.
A top attraction here is Whistler Blackcomb, one of the largest ski resorts in North America. You'll be able to go into complete snow bunny mode while hitting the slopes, skiing or snowboarding. There's also ice climbing, hiking, and venturing into ice caves. If that's not enough for the adventurer in you, then there's also snowshoeing, tobogganing and ski jumping to be tried at the Olympic Park, where the 2010 Vancouver Winter Olympics took place. This region has plenty of tourism and hospitality jobs for working holiday makers.
Calgary, Alberta
Suppose you prefer the structure of city life but like to balance things out with some natural wonders. In that case, you should consider adding Alberta's biggest city, Calgary, to your list of Canadian destinations to cover.
On your working holiday, you can opt to work in a more urban setting and play in the magnificence of the Rocky Mountains. The city's stable tourism and hospitality industry has many jobs, but you should also be able to secure part-time employment at many companies throughout the region.
Montreal, Quebec
Canada's second-largest city, Montreal, is credited as a significant cultural hub. This beautiful city is home to many creatives, including artists, writers and musicians. While it is a francophone city, you'll still hear English around the city, so don't let your limited french deter you from heading to Magnifique Montreal.
Apart from its aesthetic and lifestyle aspects, there are the natural wonders that make this principal metropolis of Quebec a must-see. The city takes up around 75% of Montreal Island (Île de Montréal), which is reported to be the largest of just over 230 islands in the Hochelaga Archipelago. This is one of three archipelagos that can be found as the Ottawa and St. Lawrence rivers merge.
The city is really affordable - compared to Toronto and Vancouver. You can expect to pay less for rent and general living expenses. And if you're looking to find a job in the tech and visual effects industry, this is the place to be! It would also be the perfect opportunity to learn or brush up on your french.
Halifax, Nova Scotia
Halifax is situated on Canada's Atlantic coast. It is the largest city in all of Canada's Maritime provinces and the largest city east of Montreal. With a population of around 400 000, forecasts project a significant boom in the years to come.
Halifax is home to some prestigious learning institutions - Dalhousie University/King's College, Saint Mary's University, Mount Saint Vincent University and NSCAD University. It is also the setting for some of the oldest and most prominent Canadian state architectural structures.
Foodies, you will love this city! The Halifax restaurant scene has experienced a major boom, so much so that some of the top local chefs have set up some spectacular dining establishments. With something for every budget, you can experience the best of Maritime hospitality - think lobsters and other seafood delights.
When it comes to jobs, you will find part-time opportunities in the agriculture, fishing, engineering, legal and mining sectors. In terms of affordability, living in urban Halifax will cost a lot less than in Toronto or Vancouver. It is, however, a bit more expensive than Montreal and the prairie regions.
Squamish, British Columbia
Squam-what? You may never have heard of the district of Squamish, but it is renowned for its culture, recreation and amazing mountain lifestyle. Its closeness to Van City makes it a "must-see" area. Situated in the southwest corner of British Columbia, Squamish is perched in the most magnificent natural setting at the north end of Howe Sound. A rugged terrain and a mountainous backdrop within a rainforest creates the ideal spot for the ultimate adventure.
It is the ideal station to be based at as you wander around BC and the perfect halfway house on the scenic Sea to Sky Highway between Vancouver and Whistler, the number one ski resort in North America.
Outdoor lovers, this is one of the best HQs for your Canadian adventures - if you don't mind swapping conventional settings for a more off-the-beaten-track environment. Activities to be enjoyed include gliding on the glaciers, kite-surf back and other winter sports.
Job opportunities in Squamish can mainly be found in the outdoor, tourist and hospitality industries. Since Vancouver is not too far, you could also head out for work there and return to your adventures on the mountain after work. However, the commute to Vancouver is only around an hour (this is a drive to experience). So you could work in the city (especially in North Vancouver) and be back on the slopes or trails before dinner.
Ready to Set the Working Holiday Wheels in Motion, eh?
This list could go on forever with so many fantastic destinations across the Great White North. But you have a working holiday to get to, so start your application. Remember to research possible working holiday destinations as much as possible to get the most out of your 12 to 24 months.
FAQS
Which IEC Program Should I Apply For?
You have the option of three work and travel experiences:
Working Holiday
Young Professionals
International Co-op (Internship)
Find out how you can apply here.
Which Countries May Participate in the IEC Working Holiday Program?
Australia
Austria
Belgium
Chile
Costa Rica
Croatia
Czech Republic
Denmark
Estonia
France
Germany
Greece
Hong Kong
Ireland
Italy
Japan
Korea, Rep.
Latvia
Lithuania
Luxembourg
Mexico
Netherlands
New Zealand
Norway
Poland
Portugal
San Marino
Slovakia
Slovenia
Spain
Sweden
Switzerland
Taiwan
Ukraine
United Kingdom
What is the Processing Time for Working Holiday Visas?
The processing time for working holiday visas for the 2022 season, according to the IRCC, is seven weeks. Visa processing begins as soon as all necessary documentation has been submitted. This includes the submission of all required documents, including biometrics.