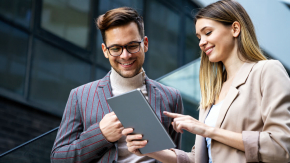 Your Top 10 Canadian PR Eligibility Questions Answered
You may have your eyes set on the Great White North as you have been doing the necessary research and feel you have what it takes to gain permanent residency (PR) in Canada and add value to the Canadian labour market.
Surely, the next step would be to find out everything in and around Canadian PR eligibility so you can eventually settle in Canada with permanent residence status.
However, for those who want to live and work in Canada, you may need to know more about your chances of landing a job successfully in Canada, the procedures involved, and the application process for permanent residency.
We have compiled an extensive list of questions geared toward Canadian PR eligibility that will assist you in your immigration journey. Furthermore, you can speak to our Regulated Canadian Immigration Consultants (RCICs) for the proper guidance in your immigration journey.
1. Who is eligible for permanent residency in Canada?
You can apply under the Canadian Experience Class (CEC) to gain permanent residency. The CEC falls under the Express Entry system, aimed at permanent residence applicants with Canadian work experience (at least one year). This Canadian work experience may be obtained through a temporary foreign worker permit. For your convenience, find out more about how to qualify for the CEC here.
To be eligible to apply for permanent residency under the CEC, you must:
have at least one year (12 months) of full-time or part-time that amounts to one year of Canadian work experience as a skilled worker in Canada in the three years before you apply,
you must meet or exceed the language requirements needed for the National Occupational Classification (NOC) skill level you are applying for. You will be tested in speaking, reading, writing and listening, and you are expected to meet each criterion and
applicants may be subject to other additional requirements, depending on the circumstances or situation of the individual.
Note: Because CEC is one of the Express Entry programs, you must complete your Express Entry profile and receive an Invitation To Apply (ITA). You can find out more about which Canadian Express Entry program is best for you here.
2. What is the easiest way to get permanent residency in Canada?
With over 100 immigration programs and visas to choose from, the Canadian government has made immigration simpler than you think.
You can immigrate to Canada through the following ways:
3. Which city is better for students in Canada?
Below are some of the five best cities in 2022 and beyond for international students from students' perspective as per QS Top Universities in 2022:
| | | |
| --- | --- | --- |
| City | Ranking | Student Desirability |
| Montreal | 9 | 87.6 |
| Toronto | 13 | 97.5 |
| Vancouver | 18 | 90.7 |
| Ottawa | 53 | 81 |
| Quebec City | 113 | 53.9 |
Find out in-depth about the best cities in Canada for international students here.

4. Is IELTS mandatory for Canada PR?
Most times, IELTS is a requirement, especially for foreign nationals looking to settle in Canada permanently and international students looking to study at Canadian universities. The IELTS is a huge language requirement for all economic applications and those applying through Express Entry. You can learn more about how essential IELTS is for Canadian immigration here. Alternatively, if you take the IELTS test, you may want to know more about how to meet the IELTS requirements for your student visa here.
5. Can I go to Canada without a job offer?
While you do not always need a job offer, securing a job offer in Canada from a legitimate Canadian employer will increase your chances of success when applying for permanent residency. However, if you are eligible, you must show proof of a job offer when applying under the Federal Skilled Worker Program or the Federal Skilled Trades Program. You may also need a Labour Market Impact Assessment (LMIA) from your Canadian employer. This document will prove that your employer is authorized to hire a temporary foreign worker. Find out more about an LMIA and jobs in Canada that will not require an LMIA.
6. How many years do we get PR in Canada?
According to the official Canadian government website, you should have been in Canada for at least 730 days during the last five years, though these days do not need to be straight, continuous days. Find out if your time abroad can count towards the 730 days here.
7. Can I bring my siblings to Canada permanently?
The Canadian government introduced various programs and visas, making immigration to Canada more accessible and accommodating to the individual's needs. Alternatively, you can apply to the Canada Family Class Sponsorship Program, which enables you to sponsor your siblings or relatives.
If your siblings are related to you by blood and are under 18 years of age, you can sponsor them. You can also sponsor one relative (brother, sister, nephew, niece, aunt or uncle) of any age. You can learn more about how you can move to Canada with your family.
8. How can I sponsor my brother to Canada?
While this is not a direct Canadian PR eligibility question, it's only relevant, given the previous question above.
You must be a permanent resident of Canada or a Canadian citizen over 18 years or be registered under the Canadian Indian Act. You must also be admissible to Canada (eligible to enter Canada), apply for permanent residency first and then apply for the Canada Family Sponsorship Program.
See the application process below for applying for the Family Class Sponsorship Program. You must ensure you meet all the program requirements (the sponsor and the one being sponsored) before applying:
Step 1: Check Your Eligibility
Step 2: Know Who You Can Sponsor
Step 3: Know How to Apply
Step 4: What to Expect After You Apply
Step 5: Prepare for the Day You Arrive
9. Can I sponsor my niece to immigrate to Canada?
You can sponsor your brother, sister, nephew, niece, or orphaned grandchild, provided they're unmarried or under 18 years of age. However, you will be subject to certain criteria as the sponsor and the relative being sponsored. Find out more about the best cities in Canada to raise a family.

10. Which city is best for PR in Canada?
These cities have been carefully considered based on employment opportunities and other relevant factors. If you are considering immigrating to Canada with your family, you want to be sure of the best cities to raise your family. Find out more here.
The Application Process for Canada PR
Depending on the individual's circumstances, they may differ from person to person, but irrespective of the immigration program you choose, you have to go through these steps when applying to immigrate to Canada:
Step 1: Check if you Meet the Program Criteria
Step 2: Check your Comprehensive Ranking System (CRS) Score (under Express Entry or other points-driven programs)
Step 3: Gather your Documents in Advance
Step 4: Create your Online Profile
Step 5: Apply to the Program and Submit your Application
We urge applicants to double-check that they have all supporting documents in place and that all required fields are filled out correctly before they officially submit their application. You may want to find out more about the IRCC processing times and how fast you can move to Canada here.
We have compiled a list of the most commonly asked questions regarding Canadian PR eligibility and some relevant resources that you may find helpful. If you want to know more about MDC Canada, go to our website for more interesting immigration information.
For your convenience, contact our Regulated Canadian Immigration Consultant (RCIC) today for the necessary support and guidance!