Prepare for Life In Canada as an International Student
Canada is a popular destination for international students seeking quality education and a multicultural experience. However, moving to a new country can be daunting, and proper preparation is essential to ensure a smooth transition.
From choosing the right educational institution to budgeting effectively and integrating into Canadian society, equipping yourself for a life of study in Canada's education system is an involving process that requires you to be attentive to your means and needs.
Get ready for life as an international student in Canada by learning the top 5 things you need to know to prepare yourself for Canada's way of life!
Ensure Your Canadian Educational Institution is Suitable for You
One of the first and most important steps in preparing for your life as an international student in Canada is to ensure that your chosen educational institution is suitable for you. Research and carefully consider factors such as the:
Quality of education,
Study programs offered,
Student Accommodation,
Transportation
Campus facilities (international student services, sports fields, research labs, etc.), and
Student fees
It is also important to familiarize yourself with the admission requirements and deadlines of your chosen institution. Start the application process well in advance to allow ample time to gather the necessary documents and complete any required tests.
This includes taking the Canadian Academic English Language (CAEL) test which measures your language proficiency in English for college and university admissions and professional association memberships in Canada. If you applied for the Student Direct Stream (SDS), you need to take the CAEL test.
By thoroughly researching and selecting the right educational institution, you can set a strong foundation for your academic journey in Canada.
Please Note
Check if the institution is a designated learning institution (DLI) in Canada, as this is a requirement for obtaining a study permit. To make a suitable choice about which Canadian educational institution to study at, learn more about student life in Canada.
Ensure You have Adequate Housing
Securing suitable housing is another crucial aspect of preparing for life as an international student in Canada. Depending on your preferences and budget, you can choose to live on-campus in a dormitory or off-campus in a rented apartment or shared accommodation.
On-Campus Accommodation
On-campus accommodation for international students in Canada is generally the most accessible and affordable form of accommodation. A communal apartment generally costs less than an apartment for a single individual. Some colleges and universities offer only shared rooms for 1st year students.
On-campus apartments are generally furnished with a bed, shelves, and a desk. The cost of living on campus often includes the option of adding a meal plan, which includes breakfast, lunch, and dinner.
Research the housing options available in the city or town where your educational institution is and consider factors such as proximity to campus, affordability, and safety.
Please Note
It is best to determine if on-campus accommodation is best for you once you have registered at your Canadian educational institution and reviewed your cost of living on-campus as a whole.
Off-campus Accommodation
If you choose to live off-campus, it is advisable to arrive in Canada a few weeks before the start of your program to allow sufficient time for house hunting. Utilize online platforms and student groups to find potential roommates or housing listings.
Finding a roommate enables you to lessen your accommodation costs by sharing the rent costs. Furthermore, securing adequate housing in advance can alleviate one of the major stressors associated with moving to a new country.
Be aware that opting to live off-campus means that you'll have to pay additional costs for furnishings, items, and utilities such as:
Bedding and towels,
Internet connection,
Electricity,
Kitchen utensils, and
Heating
Please Noe
We recommend familiarizing yourself with Canada's local rental laws and regulations to protect your rights as a tenant.
Find Canadian Health Insurance Suitable For You
While Canada's healthcare system is renowned for its accessibility and quality, the country's universal Medicare system is reserved for Canadian permanent residents and citizens. This makes finding Canadian health insurance an essential aspect of preparing for life in Canada as an international student. You should check with your school, college, or university to find out how to get health coverage while you study.
Certain provinces and territories in Canada offer free health coverage to international students, provided you can prove you've previously lived in Canada. If this is the case, you can access doctors and hospitals in that province or territory.
If your educational institution is in a province or territory without free health coverage for international students, your university or college will ask you to buy private medical insurance. For example, in Ontario, international students are required to have health coverage provided by the University Health Insurance Plan.
As part of your healthcare planning as an international student in Canada, ensure you ask your doctor or health clinic for a:
Copy of your medical records, particularly if you have a chronic health condition such as diabetes or epilepsy,
List prescription drugs you must have in Canada, and
Copy of your immunization records.
Primary and secondary/high schools in Canada generally require students to have vaccinations for various childhood illnesses. The immunizations international students need vary in each Canadian province or territory.
Please Note
Most Canadian colleges and universities have a health clinic on campus, while others provide telehealth centers. These free and accessible services enable you to talk to a registered nurse who will answer your health questions and advice on non-urgent health matters.
Learn more about healthcare in Canada.
Budget Effectively For Your Life in Canada
Preparing a realistic and effective budget is crucial for international students studying in Canada. Tuition fees, accommodation, transportation, and daily living expenses can quickly add up, so it is important to plan your finances accordingly.
This requires you to draw up a budget based on research on expected living costs as an international student in Canada. To enable you to budget effectively, be aware of the following expected living costs for international students in Canada according to Educanada:
| Type of Living Cost | Expected Monthly Cost (CAD) |
| --- | --- |
| Accommodation | 500-2,000 |
| Groceries | 240-480 |
| Utilities and Cable | 100 |
| Internet | 50-100 |
| Mobile Phone | 60 |
| Health Insurance | 75-120 |
| Entertainment | 120 |
| Transportation | 80-156 |
Opening a Canadian bank account upon arrival is also advisable to easily manage your finances. By budgeting effectively and making informed financial decisions, you can ensure a comfortable and stress-free experience as an international student in Canada.
Socialize and Integrate into Canadian Society
Socializing and integrating into Canadian society is equally crucial for international students. Canada prides itself on its inclusive and multicultural environment, providing numerous opportunities for cultural exchange and personal growth. You can utilize opportunities to socialize and integrate into Canadian society in Canada by:
Joining student clubs,
Becoming a member of volunteer organizations,
Exploring the local community, and
Attending cultural festivals.
If you're a tertiary international student, most colleges and universities in Canada have an international student services office you can visit and ask for guidance on networking and making new friends in Canada.
Lastly, Canada is a highly multicultural society, and embracing its diversity and inclusivity will greatly enrich your experiences as an international student in Canada.
How You Can Study in Canada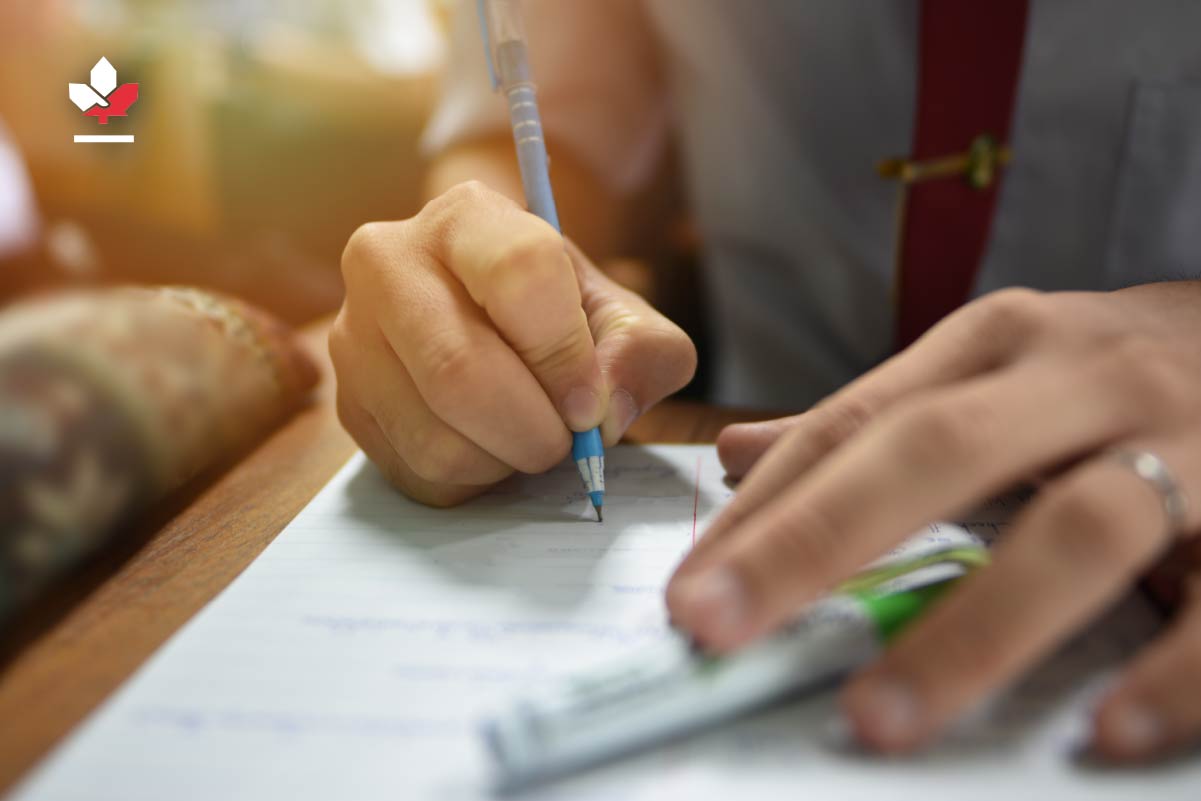 To pursue your educational dreams in Canada, you need to obtain a study permit. The following sections outline the two main pathways for international students to study in Canada.
Study Permit
A study permit is a document issued by Immigration, Refugees and Citizenship Canada (IRCC). A study permit Allows you to study at a designated learning institution (DLI) in Canada. It is essential to start the application process well in advance, as processing times can vary.
Learn how to apply for a student visa in Canada.
If you urgently need to study in Canada as soon as possible, you can expedite the process of receiving a study permit by applying for the Student Direct Stream.
Student Direct Stream (SDS)
The Student Direct Stream (SDS) is an expedited study permit processing option available to students from certain Asian, African and Latin American countries. The SDS aims to provide faster processing times for eligible students by providing application processing times within 20 calendar days.
Find out more about the Student Direct Stream.
Why Study in Canada?
Studying in Canada as an international student offers numerous advantages and opportunities. The benefits of studying in Canada primarily include:
Studying at some of the best colleges and universities in the world
Access to universally accessible and affordable education,
Opportunities to work after graduation through programs like the Post Graduate Work Permit (PGWP), and
Integrating into Canada's Inclusive, Multicultural Environment.
Find out more about why you should study in Canada.
FAQs
How can I Prepare for my Interview as an International Student?
To prepare for an interview as an international student, you must:
Research the educational institution thoroughly,
Familiarize yourself with the program you are applying for and look up practice questions,
Practice with a friend or family member to build confidence, and
Ensure that you can effectively communicate your motivation for studying in Canada.
Can International Students Bring Their Families to Canada During Their Studies?
Yes, international students can bring their families to Canada during their studies. However, it is important to note that your family members may need to apply for their own visitor visas or study permits, depending on the duration and nature of their stay.