What's Your Trade? Get Canadian Permanent Residency as a Trade Worker
FEB 9, 2021
|
ROBYNN FARRELL
Do you have a hands-on approach when it comes to working? Love culinary arts? Got a knack for fixing things? If you specialize in a skilled trade and have at least 2 years of full-time work experience, then your chances of receiving Canadian permanent residency are promising!
Due to its aging population, declining birth rates, and predominant millennial workforce that are pursuing professional careers, Canada is experiencing a shortage of workers in various trades, such as industrial, maintenance, manufacturing, sales, and hospitality.
41% of Canadian employers say they can't find the skilled people they need to fill vacant trade positions
, according to a report by ManpowerGroup.
The Canadian Federal Government is working with employers to help alleviate the trade worker shortage. How are they doing it?
Skilled trade worker immigration.
That's right, Canada introduced a special immigration program for foreign trade workers in 2015, namely the
Federal Skilled Trade Worker (FSTW).
Not only is the program tailored to foreign nationals with specific trade skills but applications are managed
by Canada's fast and popular
Express Entry
system.
Just how fast is it exactly? Applications for permanent residency through Express Entry are processed in as little as 6 months!
With over
341,000 foreign nationals to be welcomed by Canada in 2020
, now is your chance for a new life and promising career abroad.
Interested in working and living in Canada? Read more about Canadian immigration as a trade worker or fill in the contact form below and an immigration agent will get in touch with you to explain the way forward.
Start Your Journey
What is a Skilled Trade in Canada?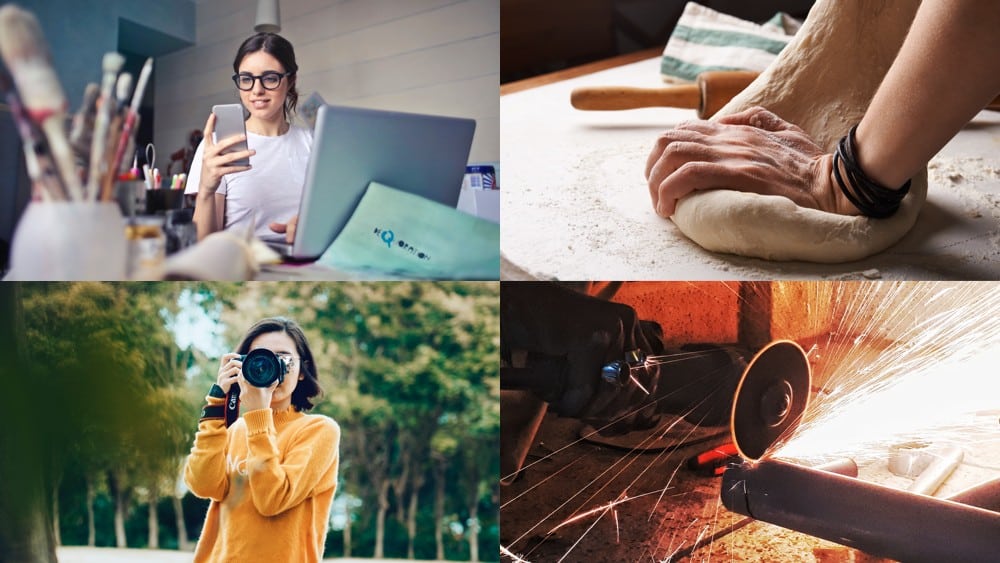 Not many people realize that their occupation is considered a trade, for example, Graphic Designers are trade workers.
Canada uses the
National Occupation Classification (NOC)
system to classify jobs in groups based on skill level and job type. This formula generates an occupation code that is used during the application process. According to the NOC system, trade workers in Canada are categorized under
skill level B
and described as
technical jobs and skilled trades
that usually require a
college diploma or training as an apprentice.
Examples of Trade Jobs in Canada
| | |
| --- | --- |
| Trade Occupation | NOC Code |
| Chefs, Cooks, and Bakers | 6321, 6322, 6332 |
| Plumbers | 7251 |
| Mechanics | 2232 |
| Photographers | 5221 |
| Welders & related machine operators | 7237 |
| Conference & Event Planners | 1226 |
| Insurance Underwriters | 1313 |
How to Get Canadian Permanent Residency as a Trade Worker
Foreign trade workers who want to apply for
Canadian permanent residency
can do so through three popular immigration programs. They are the
Federal Skilled Trade Worker
(FSTW) Program (mentioned above),
Provincial Nominee Programs
and the
Atlantic Immigration Pilot.
Learn more about each program below:
Federal Skilled Trade Worker (FSTW)
The Federal Skilled Trade Worker program is managed by the
Express Entry system
. Express Entry
works on a point-based system known as the CRS (Comprehensive Ranking Score), which ranks candidates according to factors such as age, language skills, education, and work experience.
To apply, you must first create an online Express Entry profile. Thereafter,
you'll be entered in a draw pool which takes place every 2 weeks, from which the highest scoring candidates will be selected to receive an ITA (Invitation to Apply) for permanent residence in Canada.
Minimum Requirements for FSTW
2 years of full-time work experience in a skilled trade within the 5 years before you apply.

Meet the job requirements for a skilled trade.

Have a valid job offer from a Canadian employer OR have a certificate of qualification in your skilled trade that is equivalent to a Canadian qualification.

Have English or French language proficiency.
Provincial Nominee Programs (PNPs)
Did you know that Canada's 13 provinces and territories have their own immigration streams that are designed to address specific labor-market needs within the province or territory?
If your
trade is in-demand
in a specific Canadian province or territory and you have secured a valid job offer in that area, you can apply to immigrate to Canada through a Provincial Nominee Program (PNP). Most PNP's are employer-driven and therefore require applicants to have
job offers
with the
exception of Express Entry aligned streams.
Some PNP streams work on the Express Entry system and Canadian provinces will, on occasion, invite candidates directly from the federal Express Entry pool in response to provincial labor-market needs.
Here are 5 provinces with their related streams and a list of in-demand trade occupations for Alberta, British Columbia, Manitoba, Saskatchewan, and Ontario.
PNP Stream
In-Demand Trade Occupation in 2020
Alberta

Express Entry

Alberta

Opportunity Stream

Food Service Supervisors

Retail Sales Supervisors

Cleaning Supervisors

Plasterers, Drywall Installers and Finishers and Lathers

Administrative Assistants

Administrative Officers

Express Entry

British Columbia

Skilled Worker

BC

Express Entry International Graduate

Graphic Designers and Illustrators

Hairstylists and barbers

Insurance agents and brokers

Computer Network Technicians

Firefighters

Photographers

Manitoba

Skilled Worker Overseas: Express Entry Pathway

Manitoba

Human Capital Pathway

Manitoba

Employer Direct Recruitment Pathway

Manitoba

Skilled Workers in Manitoba: Work Experience Pathway

Crane Operators

Carpenters

Metal Workers

Managers in Transportation

Industrial Electricians

Aircraft mechanics and aircraft inspectors

Saskatchewan

International Skilled Worker Express Entry

Saskatchewan

International Skilled Worker: Occupation In Demand

Saskatchewan

International Skilled Worker: Employment Offer

Property Administrators

Industrial Designers

Construction Inspectors

User Support Technicians

Medical Technologists and Technicians

Early childhood educators and assistants

Ontario

Express Entry Human Capital Priorities Stream

Ontario

Skilled Trades Stream

Ontario

Employer Job Offer Stream

Ontario

In-Demand Skills Stream

Butchers and Bakers

Industrial, electrical and construction trades

Maintenance, electrical and construction trades

Supervisors and technical occupations in natural resources, agriculture and related production
Not sure which PNP you qualify for? Want to know in which province/s your trade is in-demand? Let an immigration strategist, otherwise known as a
Regulated Canadian Immigration Consultant
(RCIC), help you find the perfect route to Canada. Simply, fill in the contact form below.
Atlantic Immigration Pilot
Atlantic Canada represents the four maritime provinces situated on Canada's east coast, namely
Prince Edward Island, Nova Scotia, Newfoundland and Labrador, and New Brunswick.
Due to their small population, retiring workforce and young professionals relocating to Urban Centers, Atlantic Canada is facing a shortage of skilled trade workers.
To combat its decreasing population, Atlantic Canada created a special immigration pilot with the aim to fill gaps in the job market.
The Pilot is an employer-driven program and therefore requires candidates to obtain valid job offers from the
1,896 designated employers
to be eligible to apply for
Canadian permanent residency
through three sub-programs listed below.
Atlantic High Skilled Program (Includes Trade Workers)

Atlantic International Graduate Program

Atlantic Intermediate-Skilled Program
Learn more about the Atlantic Immigration Pilot
here.
Why Apply for Canadian Permanent Residency?
Canada is a leading immigration destination and is one of the most multicultural countries. Can you believe that a person from every country in the world can be found in Toronto, Canada?!
Mind-blowing!
The reason thousands of people apply for
permanent residency in Canada
every year is largely due to the fact that Canada has a lot to offer in terms of quality of life, health, education, freedom and work opportunities that create a brighter future for many foreign nationals and their families.
Here are 4 ways how Canadian Permanent Residency can improve your life:
Promising Career Opportunities
If you specialize in a skilled trade, why not do what you do best in Canada where your talents are needed and appreciated? Working in an in-demand occupation in Canada will allow plenty of room to grow and flourish in your career. Canadian companies offer competitive salaries, leave days and many benefits for expecting parents.
Free Public Healthcare
Most medical and surgical essentials are covered by the Government. On top of this, Canada's public healthcare system, Medicare, is one of the first to recognize and implement free mental health care as part of an essential treatment to help people cope with stress and anxiety.
World-Class Education
Canadian education credentials help to open the right doors – guaranteeing a bright future for you and/or your children. Canada is renowned for its exceptional education system that's free of charge for primary and secondary school children and is home to some of the top Universities and Colleges in the world.
Beautiful Environment
Canada has the most freshwater resources in the world! That means most of the Canadian landscape is covered by picturesque, crystal clear lakes shadowed by majestic mountains. In Canada, you can experience the best of nature and enjoy the beautiful architecture of its popular cities; Vancouver, Toronto and Quebec City.
What We Do
With so many programs, streams and pilots to choose from, the immigration process can be quite daunting. Luckily, you don't have to take it on alone.
Our team of
Regulated Canadian Immigration Consultants (RCICs)
is immigration experts who can assist you throughout the entire process, from start to finish. RCICs help you discover the best pathway to Canada based on your individual needs and requirements. They also handle all of the required paperwork on your behalf to ensure that your application is faultless and optimized for success.
Prepare for your Canadian journey with professionals who are trusted and authorized by the Canadian Government to help you reach your goals. Take the first step, fill in the contact form below.