Top 11 Survival Jobs in Canada
Moving to a new country can be an exciting yet challenging experience. One of the key aspects of settling in a foreign land is finding a job that can help you navigate the initial adjustment period. When you move to Canada, various survival jobs are available that can provide you with the means to support yourself while you establish your new life. These jobs offer financial stability and give you an opportunity to gain valuable work experience in the Canadian job market. This article will explore some of the top survival jobs in Canada and provide tips on finding and securing these positions.
What is a Survival Job?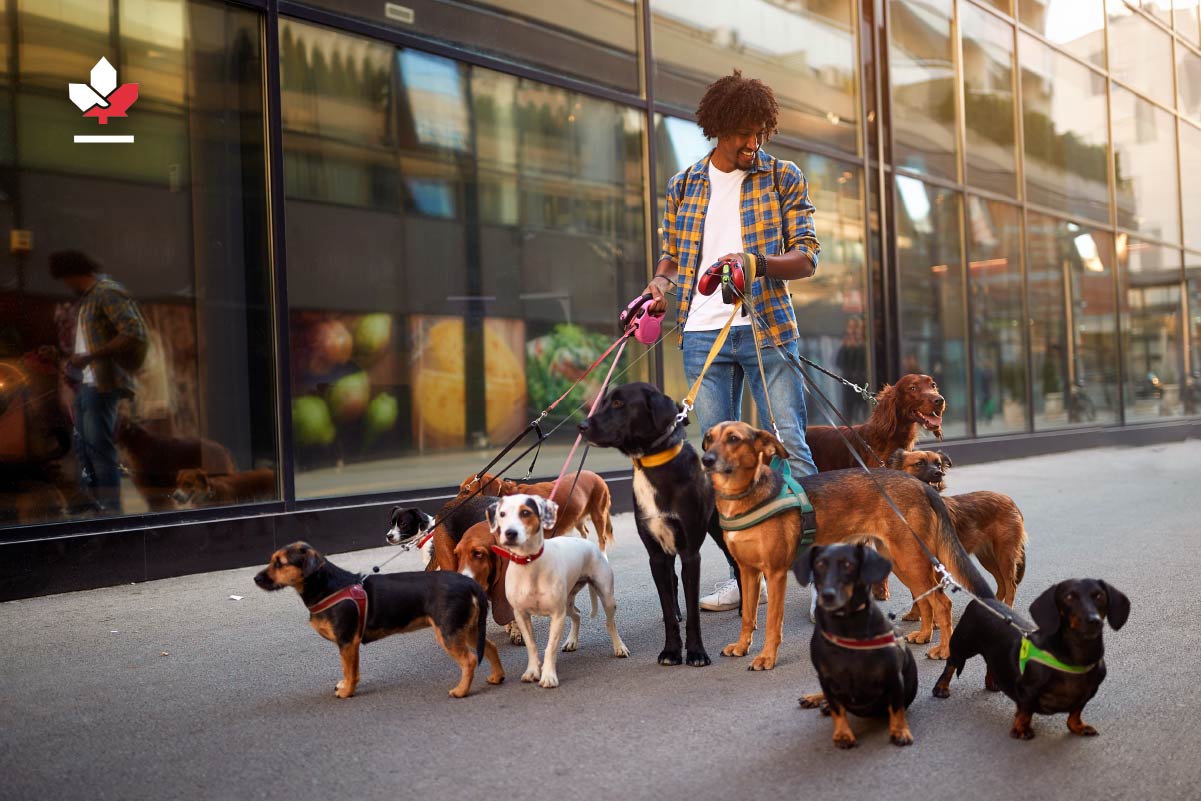 The most famous and richest people today have all had survival jobs in Canada at some point. Jim Carrey worked nights as a janitor cleaning an Ontario warehouse. Rachel McAdams worked at McDonald's in Ontario for three years while Ryan Reynolds delivered newspapers for the Vancouver Sun.
Survival jobs in Canada are especially popular among students, young people looking for work experience, and newcomers to Canada who need to secure a job before their arrival. It is fairly easy to get hired, and for many, it serves as a means to an end. We will now look at Canada's top 11 survival jobs and their wages, the five benefits of working in a survival job for newcomers, and ways to find one.
The Top 11 Survival Jobs in Canada
Below are popular jobs in Canada for newcomers. See which one best fits your skill set.
Warehouse Worker
Warehouse workers take on several duties, from receiving and sorting goods to storing goods and preparing orders. According to Talent.com, a warehouse worker in Canada can earn an average hourly wage of 17.25 CAD per hour.
Food and Beverage Server
Food and beverage servers work in restaurants, hotels, bars, taverns, and other dining establishments. Their duties include taking orders for food and drinks, serving them, bringing the bill, and securing payment. As a food and beverage server in Canada, you can earn an average wage of around 14 CAD per hour, according to Talent.com. Find out how to find a job in Canada's food service industry.
Sales Representative
Retail salespersons sell, rent or lease goods and services directly to customers. They work in stores and other retail establishments. As a sales representative in Canada, your duties will include greeting customers and finding out what they need, conducting transactions and other sales-related tasks. The average wage for a sales representative in Canada is around 15 CAD per hour.
Call Centre Agent
Call centre agents answer calls with enquiries and provide customer services. They are needed in many sectors, including retail establishments, insurance, telecommunications and private and public sectors. You can expect to earn around 16.56 CAD per hour working in a call centre.
Taxi Driver
Taxi and limousine drivers are needed across Canada to transport passengers from point to point. They are employed by taxi and other transport service companies. Some also operate their businesses. You will earn about 24 CAD per hour, depending on your company or experience.
Service Station Attendants
Service station attendants work at gas stations. Your duties will include refueling, cleaning, and checking the oil of cars. Those employed in marinas sell fuel, rent boats and related equipment, and maintain marina facilities. Service station attendants can earn around 15 CAD per hour.
Receptionist
Receptionists receive people at the front desk in offices, hospitals, and other establishments. They also answer calls, manage the message book and perform several administrative tasks. You can earn around 17.39 CAD per hour working in this role in Canada.
Security Guard
Security guards are employed to ensure safety, protect property, guard against theft, maintain order at events, and perform other duties. They find employment at private and public security agencies, hospitals, airports, malls, etc. You can earn about 17.45 CAD per hour working as a security guard in Canada.
Dog Walker
As the name states, dog walkers ensure those furry friends get their daily walk. You can expect to earn around 18.06 CAD per hour with a dog walker job in Canada.
Gardener
Gardener job range from basic maintenance of gardens to landscaping and more technical tasks. Gardeners work for lawn service companies, parks, nurseries, landscaping companies, etc. You can earn around 20 CAD per hour, depending on your skills and experience.
Au-Pair / Child Caregiver
Au-Pairs or child caregivers care for children during the day or when needed. You can find live-in au-pair jobs or babysitting jobs where the parents contact you when they need someone to look after their child. You can earn around 16.50 CAD per hour.
5 Benefits of Survival Jobs for Newcomers in Canada
Adapting to Canadian Culture
Think of a survival job as a gradual introduction to Canadian culture. Take the time to become familiar with the locals' nuances, traditions, and habits. Not only will it help you make new friends and connections, but it will also help you build confidence and improve how you communicate and present yourself in future interviews when you're ready to move on to bigger things.
Gain Canadian Work Experience
Many newcomers believe that employers in Canada prefer to hire foreign nationals with Canadian work experience. While this is only sometimes the case, it does help to have local references that are easy to get a hold of when applying for jobs in Canada. It is important that your references can vouch for your work ethic and character. Volunteering and survival jobs are the easiest ways to gain work experience in Canada.
Paying Your Bills While You're on the Hunt
Not everyone finds the job of their dreams as soon as they arrive on Canadian soil. Good things take time. You may have to apply for a few jobs and sign-up for recruitment agencies for professional help. This process can take one, two, or even three months. But that doesn't mean you shouldn't pay your bills while on the job hunt. Most survival jobs have flexible hours that allow you to earn a steady flow of income while attending interviews during the day and working night shifts, for example.
Getting a Foot in the Door
A survival job is a great way of getting a foot in the door at a company. It is easier for a company to recruit internally than to outsource talent. For this reason, working in an entry-level job can increase your chances to prosper, develop into a better working individual, and help you achieve your ultimate goal through patience and hard work.
Learning New skills
The survival job you are hired for may be light years apart from what you actually want to do, but it can help you hone skills useful when you find a better-fit job. Adding relevant soft skills such as adaptability and flexibility to your resume backed by real results will impress any hiring manager.
Ways to Find a Survival Job in Canada
There are different ways to go about
finding a job in Canada
. Here are some avenues to explore.
Friends and Connections
Word-of-mouth is still a powerful method of finding a job. Reach out to your circle of friends in Canada if you have any here, and ask them about any opportunities they may know about, such as employee referral programs or tips and advice that could point you in the right direction.
Job Websites
Thousands of survival jobs are listed on major job websites such as Canada's Job Bank, Indeed.ca and Glass Door Canada. Creating a profile, uploading your resume, and applying for jobs is easy and free. The only downside is that competition may be fierce, so prepare for a few rejections.
Enquiring In-person
Unless it clearly states on a poster board in a window that there are no jobs available, there's nothing wrong with going to the company and enquiring about a job. For example, you can drop by a restaurant or construction site to ask if more help is needed. If luck is on your side, you get offered a job on the spot, or you may walk out with an email address to send your resume or be put on a waiting list.
Reach Out to Expat Communities
Whether you're from India, the Philippines, or China - there are ex-pat communities in Canada who make it their mission to help newcomers settle in the country. Let your community know that you're looking for a job, and they'll be sure to utilize all their resources to help get you started.
Your Survival Job in Canada is Waiting
Starting a new life in a different country can be exciting and challenging. It is important to approach the journey with an open mind and a willingness to adapt when you plan to work in Canada.
Now that you know more about survival jobs in Canada, and their earning potential, what are you waiting for? Start looking for a job in Canada that best suits your skills. While these jobs may not always be your dream career, they provide a stepping stone to establishing yourself when you move to Canada.
FAQs
How Many Hours Are Students Allowed to Work in Canada?
Students in Canada can work up to 20 hours a week.
Can I Work in Canada While Waiting For my Permanent Residency to be Processed?
Yes, you can. A bridging open work permit (BOWP) allows you to work while waiting for your Canadian permanent residency application results. Learn more about getting a work permit in Canada.
Would Someone on a Working Holiday be Able to do one of these Survival Jobs?
Yes. Working holidaymakers can pick up part-time shifts, of which the above-mentioned are ideal.