The Ultimate Canadian Travel Visa Checklist
You have heard about the Great White North, and the wonders spread across this second-largest country in the world. You can picture all the experiences you will have, from hitting the slopes of the Rockies to trekking through backcountry Canada, some fun in one of its vibrant cities, or some seaside adventures in one of the country's maritime provinces. You are now ready to plan your Canadian vacation but unsure whether you need a visa. Fortunately, we have compiled a Canadian travel visa checklist to help make the process just a little easier. So, before booking that flight, look at everything you will need to apply for your Canadian Visitor Visa.
The Canadian Visitor Visa
If you want to visit Canada, you will need a Canadian Travel Visa, more formally known as a Canadian Visitor Visa. This is the document that a Canadian immigration official will insert into your passport. It verifies that you meet the set criteria to enter the country.
The Types of Canadian Visitor Visas
A Multiple-entry Visitor Visa allows you entry to Canada for up to six months for ten years or until your current passport expires. You can apply for a new one when your passport expires.
As the name states, a Single-entry Visitor Visa allows you to enter Canada once. Entry will be allowed under the following circumstances:
An official visit
In the case of a fee exemption
Participation in a Canadian event
How Long Can You Stay in Canada on a Canadian Visitor Visa?
According to Immigration Refugees & Citizenship Canada (IRCC), most people wanting to visit Canada can stay here for up to six months.
How it Works: Once you arrive at a port of entry in Canada, an immigration officer will decide whether you can stay for more than six months or less. The official will put the date you must leave the country in your passport. You may also receive a visitor record detailing your latest possible exit date.
Note: If an immigration official does not stamp your passport, you can stay for six months, counting from the entry date. If you need a stamp, ask a border official for one.
How do I Know if I Need a Canadian Travel Visa?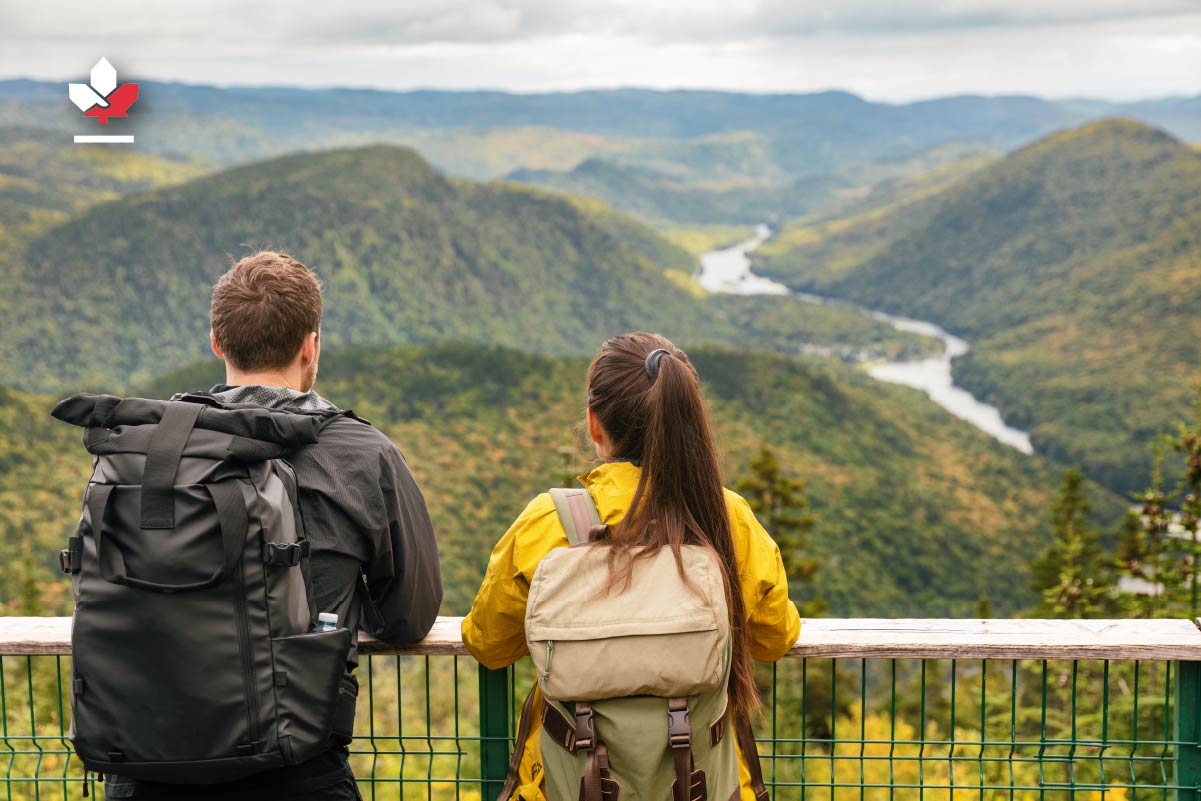 Whether you need a Canadian Travel Visa for your Canadian vacation depends on the following factors:
The travel document you have
The country of issue of your travel document
Your nationality
The mode of transport you use to get to Canada
The following travelers are visa-exempt:
Foreign nationals with official Canadian documents;
Foreign nationals who are French citizens in Saint Pierre and Miquelon flying directly from these destinations;
Foreign nationals flying to or from the U.S. and stop in Canada to refuel;
Foreign nationals on a flight that makes an unscheduled stop in Canada;
Foreign nationals in transit through a Canadian airport via the Transit Without Visa Program and
Travel or official representatives such as. Flight crew, aviation inspectors, members of the Armed Forces or diplomats)
You may also need one if you are in transit at a Canadian airport en route to another country. But remember, before you apply, make sure you need a Canadian Travel Visa or Electronic Travel Authorization (eTA)
What is an Electronic Travel Authorization (eTA)?
An eTA is a entry document for visa-exempt foreign nationals who travel to Canada by air. It is electronically linked to your passport and valid for a maximum period of five years. If your passport expires, you must apply for a new eTA.
An eTA will allow you to travel to Canada frequently for short stays of up to six months. This document will, however, not guarantee entry to the country. Upon arrival at a Canadian border, you must show the official your passport and accompanying documents. They will then decide whether you qualify for entry into Canada.
Your Canadian Travel Visa Checklist
Before securing your flight tickets and finalizing your travel itinerary to visit Canada, you must check whether you tick all the boxes for a Canadian travel visa.
Eligibility Requirements
To qualify for a travel visa, you must meet the following requirements.
Eligibility Checklist
Check
Requirements

Valid travel document, e.g., a passport

Be in good health

No criminal or immigration-related convictions

Proof that you intend to return to your home country, e.g., job, home, or financial assets

Sufficient funds for your visit (this depends on your length of stay and where you will be staying, i.e. hotel, with friends or relatives)
Canadian Visitor Visa Document Checklist
Once you have checked your eligibility, you must ensure the following are ready for your application.
Canada Tourist Visa Document Checklist
Check
Documents/Forms

Travel history (Optional)

Temporary Resident Visa Application Form

Basic Itinerary (Optional)

Bank Statement (Optional)

Travel document (Optional)

Use of a representative form (IMM 5476) if you've used a representative

Authority to release personal information to a designated individual form - IMM 5475 (Optional)

Family information form (IMM 5645)

Employment proof and payslips

Income tax returns

Hotel booking or accommodation details for the entire length of stay

Flight reservation of return or round ticket

Three photographs meeting Canadian Immigration standards

Retirement letter and pension-related documents(if applicable)

Marriage certificate (if applicable)

Employment proof and payslips
Sponsor Document Checklist
If you have been invited or are being sponsored by a Canadian citizen, you must supply the following documents.
Inviter/Sponsor Document Checklist
Check
Documents/Forms

Passport (first and last pages)

Resident permit card

Invitation letter

Payslips and bank statement(if sponsoring)

Six months' bank statements to date showing sufficient funds
FAQs
What Happens After I Submit My Canadian Visitor Visa Application?
The IRCC will review your application and ensure it has all required documents. If something is missing, they will send it back to you. They could also ask you to:
Have an interview with an IRCC official in your country
Submit additional information
Go for a medical exam
Obtain a police certificate
What is the Difference Between a Canadian Travel, Canadian Visitor Visa, and a Temporary Resident Visa?
There is no difference. They are the same thing.