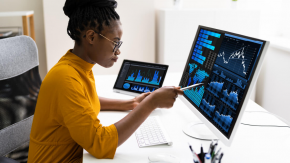 The Top In-demand Jobs in British Columbia
If 2022 has been the year in which the seed for moving to Canada was planted, then by now you've probably done a decent amount of research on the various provinces and territories, and the benefits of living and working in each one. One of the most popular regions for skilled foreign nationals to settle in, is British Columbia (BC.).
Canada's westernmost province is an economic powerhouse with major market sectors such as Agriculture, Technology and Innovation, Manufacturing, and Construction. With opportunities a plenty, for professions across the board, let's explore the current In-demand jobs in British Columbia, and the immigration streams that can get you there.
The British Columbia Provincial Nomination Program (BC PNP)
The British Columbia Provincial Nomination Program (BC PNP) is a pathway for foreign workers with in-demand skills to obtain permanent residency in BC. The program allows the province to grant you a nomination that will enable you and your family to settle there. To qualify for this, you will have to be a skilled workers, international student or entrepreneur. There are a number of streams that enable you to apply for a provincial nomination if you have a skill that is sought-after. For skilled workers, these are:
Express Entry BC
The Express Entry BC is one of the speediest pathways for skilled candidates to get to Canada. Positions within this category are wide-ranging and fall under three skill areas: Management positions (O), Professional Jobs (A), and Technical Jobs or Skilled Trades (B). To obtain an Express Entry nomination, you will need to set up an Express Entry profile, secure an offer of employment and have a minimum of 2 years experience in either NOC A, O, or B.
Express Entry BC - Skilled Worker
The British Columbia Tech Pilot
Care Economy: Health and Childcare Occupations
What is an NOC Code?
Immigration, Refugees and Citizenship Canada (IRCC) uses the National Occupational Classification (NOC) system as a classification tool for different occupations. Occupations are sorted according to specific duties and skill set.
Express Entry BC - Skilled Worker codes
O - Jobs in Management Positions: NOC 0111 Financial managers
A - Professional Jobs: NOC 3012 Registered nurses and registered psychiatric nurses
B - Technical Jobs and Skilled Trades: NOC 7251 Plumber
British Columbia Tech Pilot
British Columbia is Canada's tech capital, so it's no surprise that it has a high demand for skilled workers who are innovative and educated. The BC PNP Tech Pilot affords tech companies in BC the opportunity to recruit foreign tech talent in tech occupations, according to the needs of the industry. Through this program, foreign workers and international students can obtain a pathway to permanent residency, in order to contribute to the economy.
The pilot has seen over 6000 tech workers score permanent residency since its inception in 2017 and continues to fly the flag high in celebration of this booming tech sector. To apply to this Pilot, you'll have to secure an offer of employment from a British Columbian company or institution that will be valid for at least 12 months.
Below are the Tech Pilot In-demand Jobs in British Columbia
BC PNP Tech Job Codes
0131 Telecommunication carriers managers
0213 Computer and information systems managers
0512 Managers - publishing, motion pictures, broadcasting and performing arts
2131 Civil engineers
2132 Mechanical engineers
2133 Electrical and electronics engineers
2134 Chemical engineers
2147 Computer engineers (except software engineers and designers
2171 Information systems analysts and consultants
2172 Database analysts and data administrators
2173 Software engineers and designers
2174 Computer programmers and interactive media developers
2175 Web designers and developers
2221 Biological technologists and technicians
2241 Electrical and electronics engineering technologists and technicians
2242 Electronic service technicians (household and business equipment)
2243 Industrial instrument technicians and mechanics
2281 Computer network technicians
2282 User support technicians
2283 Information systems testing technicians
5121 Authors and writers
5122 Editors
5125 Translators, terminologists and interpreters
5224 Broadcast technicians
5225 Audio and video recording technicians
5226 Other technical and co-ordinating occupations in motion pictures, broadcasting and the performing arts
5227 Support occupations in motion pictures, broadcasting, photography and the performing arts
5241 Graphic designers and illustrators
6221 Technical sales specialists - wholesale trade
Care economy: Health Jobs
0311 Managers in healthcare
3011 Nursing co-ordinators and supervisors
3012 Registered nurses and registered psychiatric nurses
3111 Specialist physicians
3112 General practitioners and family physicians
3113 Dentists
3122 Chiropractors
3124 Allied primary health practitioners
3125 Other professional occupations in health diagnosing and treating
3131 Pharmacists
3132 Dietitians and nutritionists
3141 Audiologists and speech-language pathologists
3142 Physiotherapists
3143 Occupational therapists
3144 Other professional occupations in therapy and assessment
3211 Medical laboratory technologists
3212 Medical laboratory technicians and pathologists' assistants
3214 Respiratory therapists, clinical perfusionists and cardiopulmonary technologists
3215 Medical radiation technologists
3216 Medical sonographers
3217 Cardiology technologists and electrophysiological diagnostic technologists, n.e.c.
3219 Other medical technologists and technicians (except dental health)
3221 Denturists
3222 Dental hygienists and dental therapists
3223 Dental technologists, technicians and laboratory assistants
3232 Practitioners of natural healing
3233 Licensed practical nurses
3234 Paramedical occupations
3237 Other technical occupations in therapy and assessment
3411 Dental assistants
3413 Nurse aides, orderlies and patient service associates*
4151 Psychologists
4152 Social workers
4153 Family, marriage and related counsellors
4212 Social and community service workers
Care economy: Childcare Jobs
4214 Early childhood educators and assistants
Additional In-Demand Jobs
3114 Veterinarians
3213 Animal health technologists and veterinary technicians
FAQS
What If My Job Is Not In-demand In British Columbia?
So you're set on living and working in BC but you don't see your job on the list. Well, guess what? All is not lost. You could try to obtain another qualification in the province and get a job at a semi-skilled level that falls in the in-demand category until you qualify.
How Will I Benefit From The British Columbia Tech Pilot
There are a number of benefits. With the British Columbia Tech Pilot you won't need a Labour Market Impact Assessment (LMIA). You will receive work permit support letters in order to be able to apply for a new work permit or renew the work permit you already have. You'll be supported by client support services via email and telephone till your permanent residence is granted.
Are There Pathways For Refugees In British Columbia?
Yes, there is a pathway for refugees to enter British Columbia. The Immigration, Refugees and Citizenship Canada (IRCC) established the Economic Mobility Pathways Pilot (EMPP) in 2018 in a bid to grant complementary pathways to permanent residency for skilled workers who happen to be refugees. The EMPP assists employers in finding skilled refugees for vacancies that cannot be filled due to British Columbia's labour shortages.
Who Is Eligible For The EMPP Program?
To be eligible for the EMPP, you will have to meet the IRCC's qualifying requirements for the pilot, you have to qualify for the BC PNP Skilled Worker category or the BC PNP Tech, and you will have to receive a referral from a partnering NGO.
I'm An Entrepreneur. Are There Any Options For Me In British Columbia?
Yes, there is an option for entrepreneurs wanting to settle in British Columbia. The BC PNP established the Entrepreneur Immigration Program Regional Pilot in 2019 in a bid to work towards a continuously thriving economy. This pilot focuses on strategic partnering with BC community members and local government to draw entrepreneurs wishing to become citizens of the province.
Take Your Next Step in British Columbia!
If you've spotted your profession in the above in-demand list of jobs in British Columbia and are ready to take the leap and immigrate to Canada, you're making one of the best decisions of your life. Remember to take your time to examine all the options thoroughly to make sure your job matches the NOC code, and that you choose the best and most convenient immigration stream for your career.